Chair keeps rolling along
It seems like Chair has taken over a permanent seat in the back of my car. He ignites peoples curiosity every time I frame him in front of the camera and briefly becomes a minor celebrity. I usually tell them the story and before I know it, I'm using their mobile phone to take a shot of them sitting on Chair.
Chair started purely by accident as I needed something to use for scale during my 'Intruders' reccies. It then developed into a photographic essay. Totally Dublin wrote a nice piece recently which probably explains it better than me http://totallydublin.ie/arts-culture/arts-culture-features/the-photographic-story-of-chair-by-donal-moloney/
I must admit it's great fun having this ongoing project as it's nice to have something I can do wherever and whenever I please. It also challenges me to shoot in both tricky and sometimes beautiful locations.  Last week I travelled up North to shoot at the Rope Bridge(Carrick-a-Rede) on the Antrim coast http://www.facebook.com/photo.php?fbid=261550407313958&set=a.198869303582069.52629.198864986915834&type=1&theater but on the way encountered the most amazing avenue of Beech trees I've ever seen http://www.facebook.com/photo.php?fbid=262465773889088&set=a.198869303582069.52629.198864986915834&type=1&theater I've been to the north a couple of times now to capture the amazing scenery. It has been a great excuse to visit places I havn't seen in many years and also visit others I'm never been to before. Kilmainham jail springs to mind(hangs his head in shame). Two weeks ago it was Connemara, The Burren and many places in between. God knows where's next but I have a couple of interesting notions.
On the way home from Antrim, I stopped off for an afternoon in Belfast to check out the impressive graffiti in both East and west Belfast. I sometimes shoot video to add a little fun to each adventure.
Belfast http://vimeo.com/61464536
40ft Dun Laoghaire http://www.youtube.com/watch?v=5IGKMYZVNuQ
Kilmainham Jail http://vimeo.com/56444088
A shot from a couple of months back at Giants Causeway. I have to say that all the people at the National Trust in Northern Ireland have been so helpful and nice every time I visit their neck of the woods.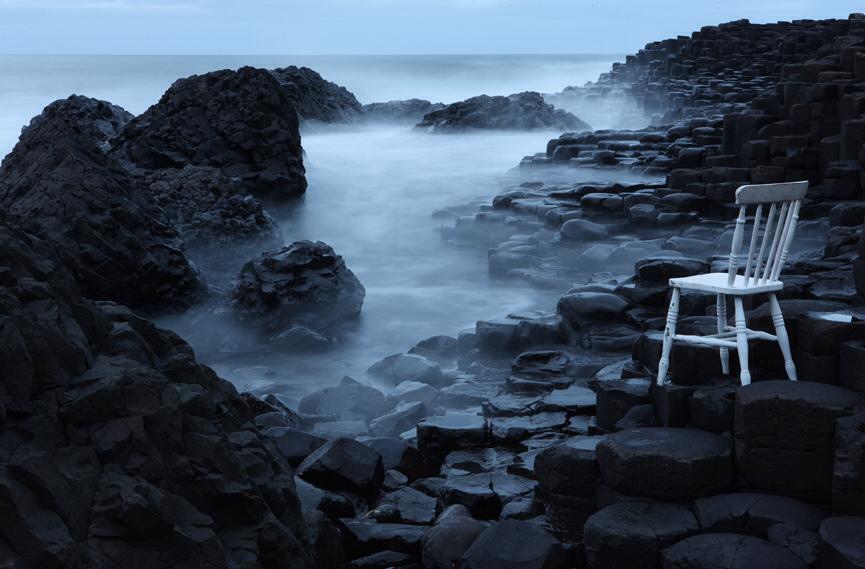 A shot from Chairs earlier adventures
The facebook page www.facebook.com/storyofchair I created gives a much more comprehensive account of Chairs adventures and if you go back to the very first shot (October 2012), you can follow the fictional story in more detail. Please feel free to 'Like' and 'Share' with all your family and friends.