Long Time No See
One could be forgiven for thinking I had bought the farm. It's been two and half years since I updated this blog so I'm not sure where to begin.
Work has been great fun recently but 2016 was pretty tough. My personal projects kept me sane and I started shooting a lot more live action. Thanks to the trust of a few great clients I've even managed to direct and produce some interesting work.
Happily I'm now in the middle of producing another fun commercial.
Photography is strange these days. There's so much competition out there. The craft has lost a lot of it's mystery and magic. The post production has almost taken priority and I fear the skill of lighting is being overlooked. And don't even get me started on the damage stock photography has done to the craft. Everyone's a photographer which is why it's now essential to diversify. Directing offers me that opportunity and I love it.
My old buddy Martin is still alive and kicking and a year ago I decided to make a documentary about him…or at least that was the intention. The documentary took a completely different direction when it suddenly seemed more interesting and natural to make it about our relationship and examine happiness. Martin is the most content man I have ever met and he has nothing yet so many of us have everything but have little.
It proved very difficult to condense 3 years into 9mins and 20secs and the edit was a challenge. Anywho, I've entered it into about 10 film festivals around the globe and it won 'Best Short Documentary' in its first outing at the Belfast Film Festival. Such a great proud moment. I even had that Oscar teary moment when accepting the award.
Lots of people asking me to put it online but can't until it completes the festival circuit. I've now got the goo and have another short doc half shot. Watch this space.
I've also been very interested in Ireland's fascination with horses. This started a couple of years ago when I visited the Ballinasloe Horse Fair. Such an amazing variety of great characters that I found more interesting than the horses. I even managed to befriend one or two.
'Eddie' impressed me greatly and taught me so much about the passion for horses and love he has for his family and locality. He even managed to show me around so many abandoned places in the area.
Ballinasloe led me to investigate Fox Hunting, Harness Racing, Dressage and Horse racing. So many great people from every socio economic group all in love with their horses. Anyone thinking that the Hunt or Dressage crowd are a bunch of toffs needs to think again. I've met some people from very humble backgrounds who don the jacket and jodhpurs.
The Urbex and Rurex project continues and every once a while I take a spin somewhere interesting.
A couple of months ago I visited India for 9 days. Check out my diary below if you dare.
Shuffle on my phone. Don Henley playing in my ear. 'New York Minute' always stirs something in me.
Long haul flights? I hate 'em. Music is the only thing that removes me from the reality. It usually has me contemplating my existence and what it's all about or what I still need to do if I survive.
This trip to India is something I have wanted to do since I was a kid photographer but it's been on permanent hold. It seemed that every other photographer on the planet has had the same dream. It no longer seemed unique but recently I read about the towns of Mathura(the birthplace of Krishna) and Vrindivan(the town where he spent most of his life). Holi is celebrated throughout India at this time of year. However, in Vrindavan they celebrate it like no other town in the country. Although many had been there before me it seemed that this was my moment to try capture the town in my own style. Perhaps I could find something more powerful and beautiful that all the rest had missed. I am also traveling with writer Patricia Murphy.
In the foyer of the Indira Gandhi airport I meet my taxi driver. He charges me about €40 to take me to my destination which is about 150 miles south of New Delhi.
India doesn't wait to ease you into the mayhem of the culture. It's full on the moment you walk out of the airport. I'm knackered tired and consider a snooze in the car but it's all too exciting and new. My eyes won't allow my brain to rest and I'm already on the prowl for a shot. The adventure has begun.
The road from Delhi to Vrindavan is packed with people milling around. Every town I pass through is crazy busy with people doing their daily tasks. They're all very industrious and working hard at trying to sell but nobody seems to be buying.
3 hours later I arrive in Vrindavan and there's the mother and father of a thunder storm. I get into the lift at my hotel and half way up it freezes. The lights go off and I momentarily panic. The busboy tells me it's the flash of lightning outside. Phew, we're back in action.
End of day 1.
No words can explain the pleasure, joy and ease with which fun and interesting photography can be achieved. It's like shootin' fish in a barrel.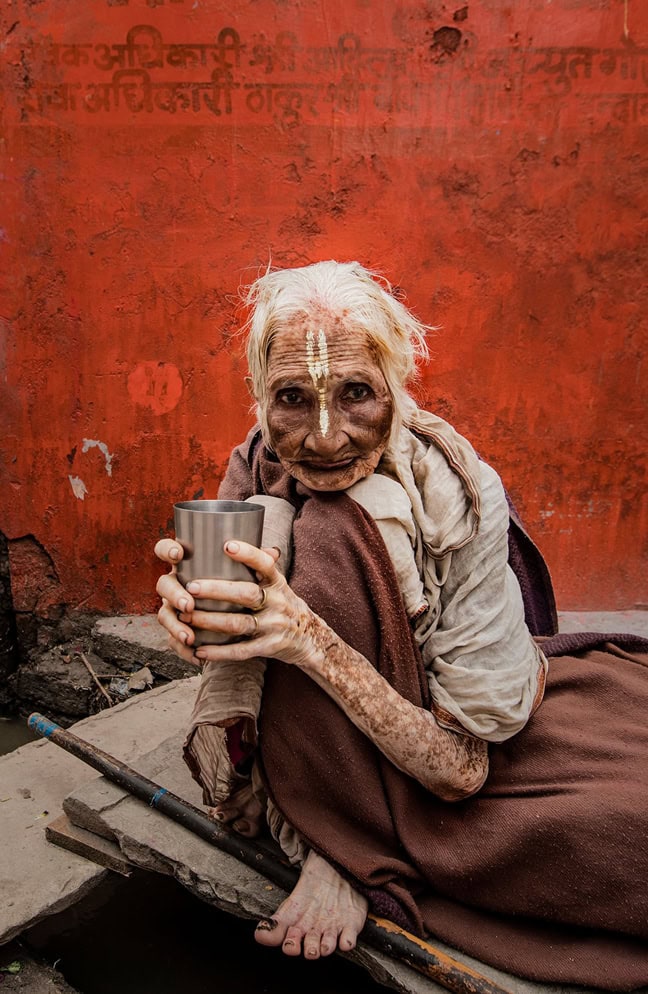 A quick breakfast was followed by a nerve racking tuk tuk trip to the Banke Bihari Temple. I'm splattered in powder and drenched in coloured spray by the locals as I make my way through the narrow laneways to the temple. I arrive and it's chaos.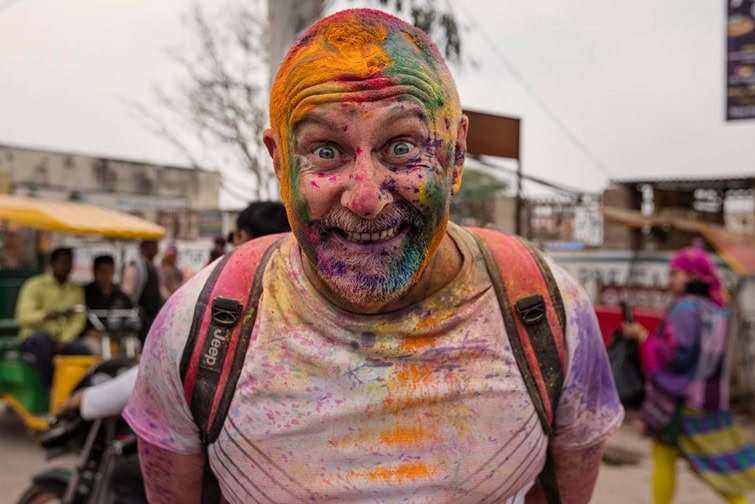 People are climbing over each other to get in. I'm the whitest bloke there and I've gotta do a hundred selfies with the locals first. Many are from small towns and probably never seen anything as white a human as me. I'm a celebrity. Hmmm, I could do well in a small town like this.
I push my way into the temple much like I did when my dad used to take me to international football matches in Dalymount Park. It's scary! I'm crammed into the main room of the temple by pure crowd pressure. My camera is barely able to reach my eye and I resort to shooting in hope with my arm raised above head. I'm warned by a couple of guys not to take photos but I just keep shooting. Eventually this guy decides he wants my guts for garters and rushes towards me. He grabs the strap of my camera and tries to yank it from me. I resist and tell him to "relax". He's really unhappy now and I explain that I'm leaving(as I fire a final few frames). He follows me through the crowd to the only exit and shouts. I imagine it was something like 'Don't you ever disrespect Krishna and get t'fuck out of here'. I was never so glad to see daylight again but I shall return another day.
I get back to my hotel and I'm a mess. First thing is get into a shower and scrub like a mofo. Most washes away but problem is the purple stuff won't come off. So I'm now looking like a kinda crusty European hippie who's just here to get stoned and praise Lord Krishna. That'll do for me. Now for some spicy veggie food.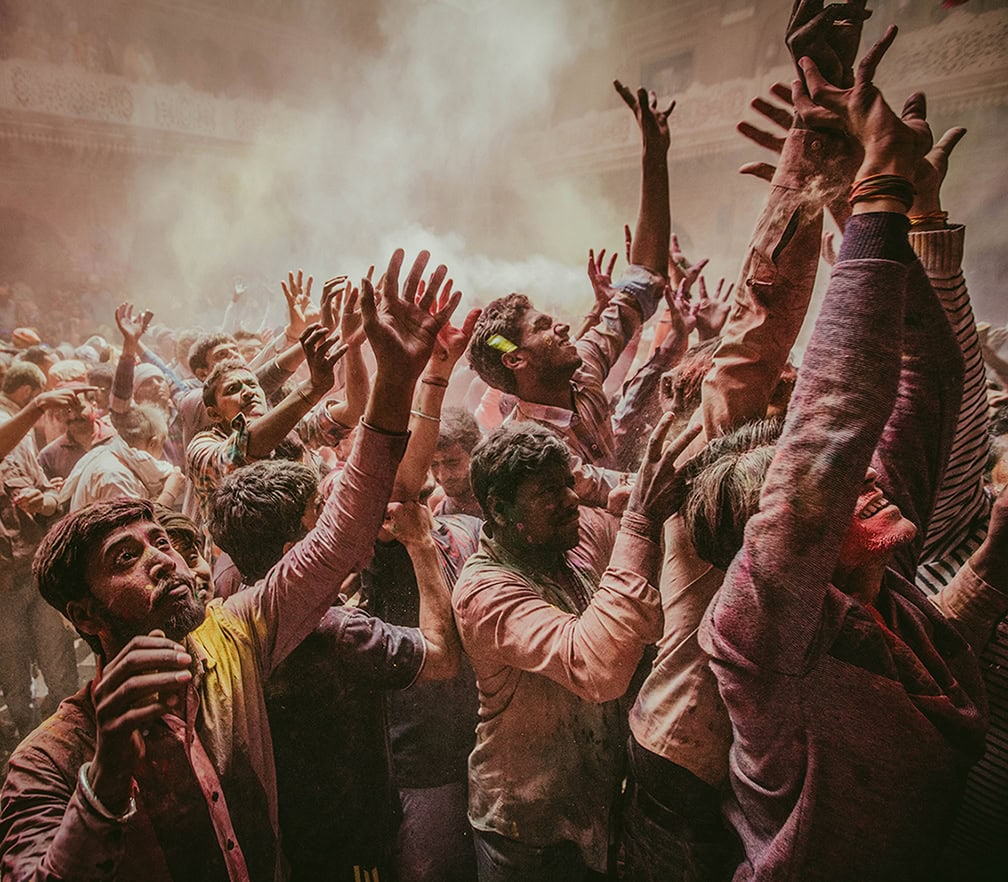 End of day 2
I wake up and my bedsheets are destroyed with the purple of yesterday. Just won't go away. It's time to visit Mathura, birthplace of Krishna. The first two days in Vrindavan was like nursery school, weaning me in for Mathura, the Senior School of the Holi experience. Fast, crowded, harsh. It's a free for all and survival of the fittest. A railway track runs straight through a busy junction and along the route I met heaps of children who live and play there. Survival savvy youngsters who will gently try and hustle a few rupees from westerners like myself.
End of Day 3
I'm back in Vrindavan and Delhi belly has arrived. I hurled for Ireland last night. There's nothing left in my body but water. It's really frustrating because I don't want to miss a moment of this adventure but there's no other alternative but to stay in the bed for the rest of the day. Later in the day I decide I need to get out and shoot something. I take a tuk tuk and head for the Yamuna river on the outskirts of the town. Every bump in the road threatens to shake the little remaining fluid in my body out of me.
We arrive. It's Hare Krisha heaven. There's a collection of spiritual characters on the banks of the river and old temple that Shakespeare would find Ii difficult to describe. There's a peaceful calmness. I'm running a temperature. Time to head back to the bed.
End of Day 4.
Trainspotting moment. Last night I had a little accident. Great! Pink head, Purple beard and now a Brown bottom. To make matters worse, the toilet won't flush and the one roll of toilet paper they afforded me upon arrival is well gone. I call reception and they tell me to use the toilet in the next vacant room.
Today I head to Agra. It's about a 50k journey by taxi. Bottled water, Sprite, dry toast and a regular feed of Imodium is the only thing on the menu today. The fever seems to have dropped.
I arrive back in the new world(almost) at the Ramada Plaza Hotel reception to Cliff Richard and he's 'Wired for Sound', followed by Showaddywaddy and 'Under the moon of Love'. It's doesn't stop there as I step into the lift and it's 'Auld Langn Syne'. They must be expecting a gang of 60 somethings from Blackpool perhaps. The lad carrying my stuff to the room asks me where I'm from and I say 'Ireland'. He hasn't a clue where that is until I mention that's "it's near England".
End of Day 5
I arise very slowly and make my way downstairs for a very light breakfast. 80s music still blasting in the dining room. I then make my way to the infinity pool. Unfortunately where the pool ends and infinity begins, it's the dual carriageway. Still though, it's time to rest the colon and consider what photographic action to do the rest of the day.
The Taj Mahal perhaps? I'm not really one for doing the tourist thing but decide to take a taxi in that direction to see what the surrounding districts have to offer in the way of real Indian lifestyle and mayhem. I'm disappointed but then I have a bright idea to travel to the main train station. Surely there's going to be plenty of characters and shenanigans there to fill my lenses. I was not disappointed. When in doubt, find a train station.
I hail a tuk tuk as I leave the station. The drivers names is Ali. His English is pretty good(rare in India) and I tell him the sort of places and people I like to shoot. He agrees to meet me tomorrow and take me to "very non-touristy real India" places. Result!
End of Day 6
Ali arrives and I suggest a cup of coffee in a Costa coffee shop downtown. He walks in behind me but looks uncomfortable. He says it's the first time he's been in such a place. We chat for a while and I try to get a sense of his life. He's 41, married with two kids and earns about €400 a month. By all accounts that's quite a high wage as he then tells me that lads working as waiters in hotels etc only earn half that. We finish our coffee and cake and head to the district where he lives. We stop outside his humble house and I even get to see the wife and kids.
I meet all sorts from across the street. The local car parts/motor factor man smiles at my endeavour. A tuk tuk mechanic is hard at work, whilst a family living in a tent prepares chipati bread.
We spend the next couple of hours scouring for things that might interest me and I have occasional success.
I really don't want to do it but I feel not visiting the Taj Mahal might just irritate me in a few weeks time. Ali drops me off and I ask him to meet me later at the Western entrance. It's packed with tourists and I'm impressed but not to a jaw dropping degree. Give me an aul battered run down shack with a few dodgy looking characters any day. Time to leave, get back to the hotel and scrub the smell of fumes from as many pores as I can reach. I reckon I'll be blowing the smog and dust from my nasal passage for the next week.
End of Day 7
It's St Patrick's Day and I'm particularly proud to be in a country where people will not be shitfaced drunk and puking green pints for the rest of the day.
I'm done with Agra so gonna head 250km back to New Delhi today and try get a sense of the city tomorrow. I order a taxi at reception which will cost about €60.
End of Day 8
New Delhi has a population of over 20 million. Many agree the unofficial figure is more than 30 million.
I have never seen so many people crammed into a city. It's relentless, chaotic, frustrating and often overwhelming. Tuk Tuks are the main form of transport. I took my camera out on the final evening to take a few shots of the heroes that try to keep this city moving for very little return.
Get me out of this city!  Time to go home but I will most definitely return to India.
Next stop, Sienna. I've got another event visit to cross off my bucket list. The 'Palio' in Sienna in early July is something I have always wanted to shoot. I'm not sure how successful a photographic trip it will be but I'll using every trick in the book to get as close to the action as possible.